04 Sep

11 Best All-Inclusive Dominican Republic Villas

Whether you're looking for beaches to relax at, mountains to climb, or perhaps golf courses to conquer, the country has you covered. Plus, if you are eager to gorge yourself on some delectable Latin American dishes, you will find an endless supply of that in the country.

According to Oyster, the aforementioned country is currently the most visited tourist destination in the Caribbean and it has second place Cuba beat by more than two million visitors. Many people have clearly found something to love about the Caribbean and if you want to find out more about it, then perhaps it's time to book a vacation there.

To make organizing your next trip easier, view deals offered by the all inclusive Dominican Republic villas listed below.
Here Are The 11 Best All-Inclusive Dominican Republic Villas:
1. Sunrise Villa – The absolute lap of luxury in the Dominican Republic has to be Sunrise Villa, a perfect private vacation spot. This unbelievably opulent choice includes not only a personal chef, but also a masseuse and a dedicated concierge available to make every wish come true. This is the choice for real romantics, as the villa sits on 400 feet of private beachfront. It's also enormous, with eight bedrooms and a swimming pool, so it's perfect for families. Sunrise Villa tops the list for extravagant luxury.
What do you want most from your vacation? Most people would probably say that they would just like to relax in a private setting together with their loved ones. Others may say that they would prefer to visit a gorgeous natural location. You can't really go wrong with either option there, but wouldn't it be better if you didn't have to choose?
By opting to stay in Sunrise Villa, you can enjoy both a private setting along with the wonders of nature. The establishment is located on five private acres along the northern coastline of the Dominican Republic.  It is also housed within the gated Orchid Bay community.
You don't ever have to worry about any of your belongings being at risk while you're staying here and if you just want to spend some private time alone, you can most certainly do that.
Step out on to the beachfront and you'll find a gorgeous stretch of sand that extends to as far as your eyes can see. Pick out any location along the coastline and just relax there if you so desire. If you do want to mingle with your fellow vacationers, there are also social spaces found throughout Sunrise Villa.
When you start to feel hungry, you can choose a dish that will be prepared by your personal chef. The dishes served at the villa are also made using locally sourced ingredients to ensure their freshness and quality. For those with dietary restrictions, simply let the chef know about them so that they can be accounted for during the preparation process.
One would assume that a stay in an establishment such as this would cost a very pretty penny, but Sunrise Villa actually presents one of the best value propositions available. Vacation deals don't get much better than what Sunrise Villa offers.
2. Cap Cana Villas – These villas are a perfect destination for families, especially since they offer so much as a community. Horseback riding, snorkeling, cave exploration, and other activities are available at this resort. The villas are all located on the water or a short walk away, and they often come with a full staff including a personal chef. There are a variety of different villas to choose from, all of which also benefit from a private pool. Whatever your interest, Cap Cana has you covered for an adventurous holiday.

What's so interesting about the accommodations offered by Cap Cana Villas is that you have so many options to choose from. If you want to spend your vacation in a villa featuring a beautiful ultra-modern design aesthetic, you can do so by booking a stay at the Yatari Royale. For tourists who would prefer to experience the relaxed vibes of the Caribbean, opting for the Cayuco 1 is a great option to consider.
Villa Toscana provides visitors with a spacious establishment that can easily serve as their home away from home for an extended period of time. It also features classical design elements that deserve to be appreciated in person.
Folks who don't want to burn through their budget just on the place they're staying in also have more affordable options to consider. Securing a few days and nights at Villa Caleton 3 doesn't cost a lot and it is still big enough to house up to eight guests at a time.
You are also given access to numerous activities if you choose to stay at Cap Cana. Explore caves together with your friends and family or perhaps spend some time on horseback while touring the countryside. Fans of adventuring underwater can also try out snorkeling.
After you get tired from a full day of activities, a personal chef will be waiting to cook you a fantastic meal.
3. Casa de Campo – These villas are perched on the coast, offering stunning views as well as a private pool where you can swim as you look out over the Caribbean. Relax and soothe your cares away with the maid service and daily breakfast prepared for you in your own villa. Your personal concierge can help you plan all of your activities, including golfing or heading out to the spa.
Next up in this article detailing the top all inclusive Dominican Republic Villas is Casa de Campo and it should get a spot high up on your list if you are a fan of a particular sport that's played on fairways and greens.
As part of your stay at Casa de Campo, you can play at one of or perhaps even all three of Pete Dye golf courses. The Teeth of the Dog golf course is widely regarded as one of the top courses in the entire world. It's an absolutely stunning course that also presents golfers with numerous challenges to face. Dye Fore and The Links offer different takes on golf course design that are well worth experiencing.
To be clear though, this Caribbean resort is not just about providing vacationers with memorable golfing experiences. You can also participate in some polo matches if you are so inclined or even take advantage of the shooting course. It is also possible to shop to your heart's content by paying a visit to one of the establishments nearby.
Visitors will also appreciate the privacy provided by the Casa. Stay here if you simply want to get away from the hustle and bustle of modern life.
Casa de Campo is not lacking in terms of natural sights to marvel at. There are three private white sand beaches that are located nearby and there's more than enough room for you there to spend some quiet time either alone or together with your friends and family.
You can also decide to use one of the private pools if you just want to go for a quick swim before heading out for the day.
4. Casas del XVI –People often go on vacation because they want to see historical sites or marvel at the incredible examples of architecture that defined bygone eras. By choosing to stay at Casas del XVI, you don't even have to go far from your hotel to see beautiful relics of yesteryear.

People often go on vacation because they want to see historical sites or marvel at the incredible examples of architecture that defined bygone eras. By choosing to stay at Casas del XVI, you don't even have to go far from your hotel to see beautiful relics of yesteryear.
Casas del XVI gives visitors the chance to stay in one of their antique houses. These antique houses have been carefully restored to preserve their unique qualities while also transforming them into comfortable establishments for guests.
The resort's Casa del Pozo features immaculate old style architecture complete with brick-laden arches that make you feel as though you are taking a step back in time. It is evocative of the spirit of old colonial-era homes and the cozy feel it provides is incredibly relaxing. Are you looking for a more festive feel from the house you're occupying during your vacation?
In that case, you should check out the Casa de Los Mapas. The bright, thoughtfully designed interiors of this antique home offer comfortable accommodations. When dinner time arrives, you and your fellow vacationers can gather at the dining room indoors or take things to the courtyard for a relaxing time underneath the cover of stars.
One more option worth highlighting here is Casa Antillana. This house features a sprawling poolside area that's perfect for lounging around on those warm summer days. Step inside and you can take advantage of the many modern amenities that will help you relax better. Tourists with a great interest in the architectural practices utilized in the past will find Casas del XVI to be an ideal vacation spot.
5. Sanctuary Cap Cana – is another one of the all inclusive Dominican Republic villas that you should know about. Unlike many of the other hotels and resorts that are featured in this article, Sanctuary Cap Cana is an adults-only establishment. You can bank on having a peaceful getaway if you decide to stay here.

Take a trip here with your significant other and you can book couples massages at the Sanctuary Spa. Pamper yourself better by also going for a facial as well as a manicure and a pedicure.
At the nearby beach, you can join in on games of beach volleyball or bocce ball. Alternatively, you can hop into a kayak together with your partner and just paddle around while marveling at the incredible sights. Darts are also available for those who want to try something different.
Sanctuary Cap Cana is also home to the Punta Espada Golf Club. If you want to get an idea of what kind of golf course Punta Espada is, just know that it was designed by none other than Jack Nicklaus himself.
This resort doesn't sleep once night falls. There are numerous nightly entertainment options for guests to choose from here, including karaoke, disco, and live music.
Drinks don't run out at Sanctuary Cap Cana as well as there are five bars supplying guests with all the beverages they could want.
6. Sea Horse Ranch – These villas each come with a private pool and a personal chef as well as a concierge. They'll even stock your refrigerator with all your favorite foods before you arrive. Hidden seaside pools and horseback riding make Sea Horse Ranch a place with some of the coolest amenities available. This resort in the north of the Dominican Republic is an oceanfront escape you'll be writing home about – if you can spare the time!
Many people prefer to relax and just take things easy while they are on vacation. There's certainly nothing wrong with that, but there are also those folks who want to do as much as they can while they have free time. The Sea Horse Ranch is more accommodating to those who want to remain active.
If you're a tennis fan, you will find the Sea Horse Ranch to be a great vacation spot. Visitors are given access to five different clay courts and two of them can be used even at night. You also have the option of learning more about how to play tennis while you're there as lessons are offered to both adults and children.
Don't worry if tennis isn't your thing. You can still try out horseback riding while you're at the Ranch. Join in on tours that go through vast expanses of beautiful beaches and forests or learn about how to take part in this activity properly from the instructors. Because this is a tropical resort, you will also have access to beaches. The best part about these beaches is that they are often not crowded, meaning you will be able to enjoy them easily.
Swim, surf, or even just walk along the water. Regardless of what you ultimately decide to do along the beach, you are guaranteed to have a great time.
After spending time outdoors, you can go to the Villa Organica Garden and pick from the many delicious fruits and vegetables that are available. There are also full moon dinner parties that take place in the garden monthly and they are tons of fun to take part in.
7. Sosua Villas – The private chef is one of the star attractions at Sosua Villas. Lobster and mahi mahi grace the plates you'll be enjoying for dinner, and all dietary preferences are taken into account. A perfect destination for foodies, these villas really ramp up the charm and roll out the red carpet for those with a gourmand's taste. The villas on offer from GT are incredible and feature different designs so visitors can choose what suits them best. Whether it's beachfront or jungle, Sosua Villas can cater to every taste.
Sosua Villa is the perfect vacation spot for the people out there who want to do as many things as they possibly can while taking a break from their everyday life. You're not going to run out of fun activities to try while you're staying at the villa.
When you're at the beach, you can go ahead and see what it's like to sail around or even give paddleboarding a try for the first time. Stay on a yacht and join in on a party or cast your lures into the water and wait for the fish to bite. If you can't resist the allure of the world beneath the waves, put on some gear and go snorkeling.
Once you get back to land, hop aboard a horse or take an ATV for a spin around the villa. There are also cigar tours taking place that are worth participating in if you have the time.
Sosua Villa also caters to the thrill-seekers who have made their way to this part of the world. Witness the beauty of nature in a different way by going zip-lining or even riding in a monster truck. Sosua Villa will be able to accommodate the preferences of many travelers with their wide array of available activities.
At the end of the day, you can then relax on a nice, warm bed, and look forward to another excursion when you wake up in the morning.
8. Sublime Samana Hotel – With travel shows focused on food becoming more and more popular, it was only a matter of time before tourists built their vacations around being able to sample the best dishes available. Caribbean cuisine is among the most exciting ones you can sample and it's on full display at the Sublime Samana Hotel.
If you want to experience the essence of fresh tropical favors, there are all kinds of offerings you should try at the hotel, starting with the cocos frios. This humble offering may not sound very exciting when it's just being described to you, but it's so light and refreshing that you will undoubtedly end up loving it.
Guests are also encouraged to try the many tropical fruits on offer and there's plenty of fresh seafood to eat at the hotel. Three restaurants are open throughout much of the day to present guests with all the delectable delights they can handle.
You may be tempted to go back to bed after enjoying such a full meal, but it's not a bad idea to stop by the Coconut Whispers Spa first. The spa offers all kinds of relaxing services and there's even a Jacuzzi available for those who want to enjoy a soothing soak.
Rooms at the hotel are fully furnished and complete with all the modern amenities you could possibly need while on vacation. You can also ask for the nanny service if you want to spend some time alone or together with your partner.
9. The Level at Melia Caribe Beach – Planning a family vacation can honestly be a nightmarish ordeal. Everyone has things they want to do and that makes putting together any kind of itinerary a big challenge.
The reason why The Level at Melia Caribe Beach deserves some recognition as one of the top all inclusive Dominican Republic villas is because it is a great establishment for everyone in the family.

While at this hotel, your children can drop by the Kids Club. While there, they can enjoy all kinds of activities and games. Your kids will be carefully watched over while they are at the Kids Club so you can go ahead and explore the other offerings of the hotel.
The YHI Spa is most certainly worth your time. Recharge your batteries by enjoying the most soothing massages at the spa and relax even better with the help of other forms of physical therapy.
Once you and your significant other are done at the spa, you can pick up your children at the Kids Club and go to the beach. If your family is up for something more exciting, you can visit the Splash Island Water Park instead.
The super spacious Grand Suite and Junior Suite at the hotel offer access to a hydromassage bath tub for everyone in your family to use. You also have several restaurants and bars to choose from when you are seeking dining options.
10. Tortuga Bay Puntacana Resort and Club – Add Tortuga Bay Puntacana Resort and Club to your list of top hotels in the Caribbean especially if you want to know what it's like to be a VIP.

The VIP experience can start as soon as you reach the nearby airport. If you inform them ahead of time, the resort can send over a VIP service to come pick you up.
Taking advantage of the resort's VIP service will allow you to go through customs easier and you don't even have to worry about finding a taxi to get to the hotel. Your VIP service will be the one to provide a vehicle.
VIP service can continue even after you've arrived at the hotel. The concierge will check you in and the staff can take care of your luggage for you if you so desire.
Once you're all set and ready to explore the resort's sprawling estate, you can ask for a golf cart. The handy golf cart should make getting to where you want to be a much simpler task.
Another feature of Tortuga Bay Puntacana Resort and Club that deserves to be highlighted is the Oscar de la Renta Boutique. You will be able to find an assortment of high quality and fashionable items at this boutique, including ones that are ideally suited to wear when you're heading to the beach.
You can easily spend hours just browsing through the Oscar de la Renta Boutique, but know that the Tortuga Bay Resort has way more to offer.
11. Villa Castellamonte – This absolutely mind-blowing 15,000 square foot luxury Tuscan villa sitting atop the cliffs overlooking the Caribbean Sea is what dreams are made of. It is located in a rural community so you're able to take in all the sights and sounds of the real Dominican Republic. The staff works all day and night to make sure everything is perfect for you, from the gardens to the cuisine.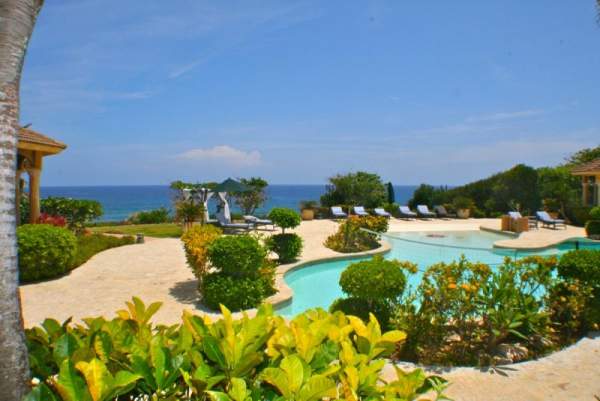 View deals offered by the different establishments mentioned previously and you will most certainly find them to be intriguing, but perhaps you're looking for something else. When vacationing with your friends or officemates, you want to create some truly unique memories and Villa Castellamonte can help with that.
This establishment aims to present guests with the best value proposition by catering specifically to their needs. The staff at Villa Castellamonte will work closely with you to create the type of vacation you want for yourself and your companions. Notify them ahead of time regarding your requests and they will do what they can to accommodate you.
Even without making special arrangements, there are already plenty of fun activities for you to try at the resort, including windsurfing, whale watching, and deep sea fishing just to name a few.
If you want to be sure that the resort is available for your upcoming vacation, you can book it well in advance. The resort allows you to book up to 18 months in advance. That can also end up saving you money if you time your booking right.
Food is always an important part of the vacation experience and the dishes served to you during your stay at Villa Castellamonte can be catered to your preferences. You can opt for the lavish gourmet meals or go for the more affordable breakfast options. It's all up to you.
Spoil Yourself
A vacation presents you with that rare opportunity to get away from it all for a while and just enjoy the fruits of your labor. In order to do that, you need to stay at the best all inclusive Dominican Republic villas. As you can see from this article, there are several deals and establishments for you to choose from and they all bring distinct offerings to the table.
Visiting the Dominican Republic is a terrific way to spend your vacation and the establishments above will make the experience even better.